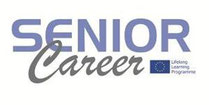 Active ageing and pre-retirement counseling (2010-1-DK1-GRU06-01891-5)
Die Lernpartnerschaft "Active Ageing and Pre-Retirement Counseling" konzentriert sich auf den Austausch von Erfahrungen und Konzepten zum aktiven Altern innerhalb Europas.
Hintergrund der Überlegungen sind die Konsequenzen der demografischen Entwicklung in vielen Mitgliedsstaaten, durch welche eine aktive Fokussierung auf Ältere als Mitglieder am Arbeitsmarkt und wichtige Stützen in der Gesellschaft zunehmend an Bedeutung gewinnt.
Die fünf Partner aus dem Norden, Süden, Osten und Westen der EU werden innerhalb von zwei Jahren eine Webseite und zwei Berichte erstellen. Der erste Bericht befasst sich mit den "Ruhestandsmodellen in den Partnerländern", der zweite mit "Vorruhestandsberatung und Kursen".
Die endgültige Förderung der Ergebnisse der Lernpartnerschaft konzentriert sich auf die Idee der "Vorruhestandsberatung als Pflicht für leitende Angestellte in der EU". Nicht nur zum Vorteil von leitenden Angestellten, sondern auch für Unternehmen und die Gesellschaft.
The learning partnership on 'Active Ageing and Pre-Retirement Counseling' will focus on exchanging of knowledge on different retirement patterns in partner countries and exchange of best practice in pre-retirement counselling.
Cause the demographic development it's getting more important that seniors stay longer at the labour market. Pre-retirement courses are important tools to reach that goal, as important parts of pre-retirement counseling are aiming at extending the working life and improving work ability after retirement.
The five partners from north, south, east and west in the EU will during the two year period produce a web-page and two reports. The first report on 'Retirement patterns in partner countries' and the second report on 'Pre-retirement counseling and courses'.
The final promotion of the outcomes of the learning partnership will focus on the idea of "pre-retirement counseling as compulsory for senior employees in the whole EU". Not only for the benefit of the senior employees, but in the end also for companies and communities.

This project has been funded by the European Commission as a
Grundtvig Learning Partnership under the Lifelong Learning
Programme.